Smoke & Carbon Monoxide Alarms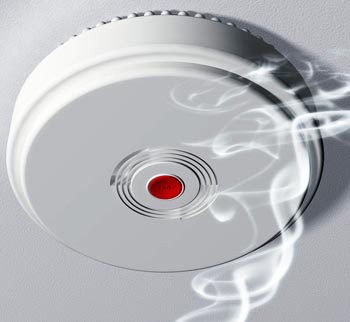 Remember to check your smoke alarms each month to ensure your family has the early warning to get out safely if a fire should occur in your home. It is always good practice to add additional smoke alarms to every habitable room in your home. Most homes that we have seen have too few or NO present smoke alarms. They are there for a reason. To warn you of a potential fire.
Carbon monoxide is a toxic gas, but, being colorless, odorless, tasteless, and initially non-irritating, it is very difficult for people to detect. Carbon monoxide is a product of incomplete combustion of organic matter due to insufficient oxygen supply to enable complete oxidation to carbon dioxide (CO2). It is often produced in domestic or industrial settings by older motor vehicles and other gasoline-powered tools, heaters, and cooking equipment. Exposures at 100 ppm or greater can be dangerous to human health.
It is highly advised to have CO2 detectors installed in your home. There are outlet plug-in types, along with ones that your alarm company can hard-wire in with your smoke detectors.
It is advisable to regularly check/test your CO2 & smoke detectors to insure that they are performing as they are intended. Your safety depends on it!
RESIDENTIAL & COMMERCIAL Property Inspection • Access via Supra Key Experienced • Thorough • Friendly • Full Service