Tamper-Resistant Receptacles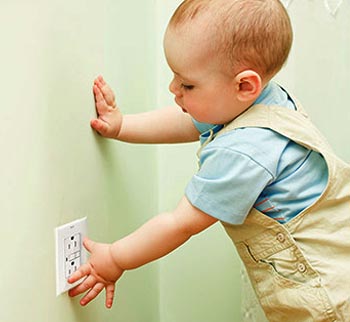 The U. S. Consumer Product Safety Commission (CPSC) data over a 10-year period found that more than 24,000 children under 10 years of age were treated in emergency rooms for receptacle-related incidents, and more than 10% of those children suffered severe shock and burns. An average of seven children a day suffered from some type of injury from electrical receptacles. Eighty-nine percent (89%) of those injured were under six years of age. Fifty percent (50%) of those injured were toddlers. It was very interesting to learn that the vast majority of these incidents occur in the home where, more than likely, children are under adult supervision.
These devices may be relatively new to residential structures but, the fact is, they have been around for decades.
The main goal of a TRR is to provide a level of protection to help prevent a child from inserting an object into one of the blade openings of the receptacle. The object of the design is to ensure that the act of probing with an object, let's say a bobby pin, safety pin or other similar object, in any single slot does not successfully let it penetrate to the energized components internal to the device.
Insertion is permitted when both slots receive a blade at the same time. In a typical mechanism, inserting a plug compresses a spring, simultaneously opening both shutters. While insertion of an object in any single shutter will not open the device such that the shutter slides out of the way. This sophisticated approach to the shutters ensures that curious George does not successfully hit "pay dirt" and end up in the emergency room.
RESIDENTIAL & COMMERCIAL Property Inspection • Access via Supra Key Experienced • Thorough • Friendly • Full Service